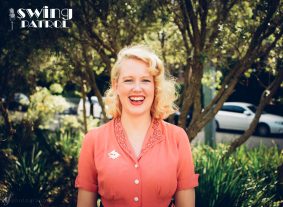 Trudi has been dancing since about 2000. She still remembers walking up the stairs for her first class (of Nightclub Hustle!) and being stuck to the wall with nervousness. That feeling has long since passed and Trudi is a well known face in many dance scenes across Australia!
She has taught for a number of schools, both in Sydney and Canada, and Swing Patrol is so pleased to be one of them. Bringing a breadth and depth of knowledge to her classes, this multi-talented dancer has performed and competed in a wide range of dance styles including Lindy Hop, Collegiate Shag, Balboa, West Coast Swing, Rock 'n' Roll, Rockabilly and Salsa.
Trudi is a strong advocate for being involved in your dance scene. She has been a part of the organizing crew since the inaugural Sydney Lindy Exchange, and has organised and taught a number of Australia-wide workshops with international instructors.
Learn to dance with Trudi on Tuesday nights at Swing Patrol North Sydney.
(Photo credit: Andy Firth)