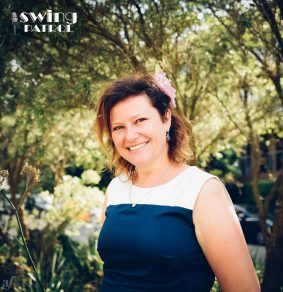 Trish joined the Swing Patrol team in 2003 and has anchored a number of venues around Sydney including Balmain, Newtown, North Sydney and, most recently, Swing Pit. She loves teaching, dancing and hanging out with some of her closest friends in the world doing the thing they all love.
Trish was never a dancer a child or teenager … she'd rather put on a pair of basketball boots or run around a netball court, so the thought of dancing was something she'd never contemplated. Like most people, Trish was dragged along to her first class (and spent the whole day trying to come up with excuses why not to go) but after the lesson she was hooked (and honestly has never looked back).
In the early days Trish's focus was to grow the scene so she had people to dance with … so she did a ton of social dancing, street dancing, festivals, competitions, started teaching … was a bit crazy – but she had a bunch of friends who were just as crazy as her!
\"Nowadays, I'm a bit older, a bit wiser but I love it just the same … and I teach not only because I love it but I love being part of every single person's dance experience as they enter and leave my class, and I particularly love it when they come to Swing Pit and dance with me … It completes my circle of dance!\"
Over the years, Trish has broadened her passion for Lindy Hop and fell as deeply in love with Balboa. She's had the opportunity to not only travel to learn this dance style but also traveling to teach it too.
A few highlights of Trish's dance career so far :-
– Running the very first Swing Pit (then call Swing Tonic and was run in a small bar in Kings Cross – Tonic Bar)
– Learning from Frankie Manning, Norma Miller and Chazz Young
– Attending Frankie 100 in New York
– Teaching and learning at All the Cats Join In – A Balboa and Shag Affair in Melbourne
– Being accepted to attend The Balboa Experiment (South Carolina)
– Attending some of the most amazing dance camps in the world like Camp Jitterbug (LA), Herang Dance Camp (Sweden), Windy Lindy (Wellington), Auckland Lindy Exchange and CalBal (California).
– Making so many life friends from not only around Australia but also across the world, who all share the same interest (and who are more than happy to geek out together)
– Competing in the CalBal Dance competitions
– Making life long friends
Things still on Trish's bucket list :-
– Attend some of London's premium dance events and competitions
– Travel to dance in Asia
Learn to dance with Trish, 2nd, 4th & 5th Fridays of the month at Swing Pit Sydney.
(Photo credit: Andy Firth)