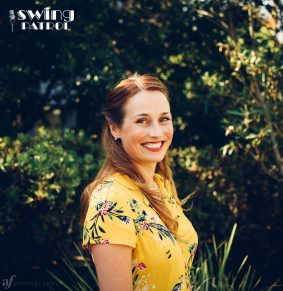 Swing dancing is the perfect outlet for Serena Dyce's bubbly personality and love of dance!
Serena comes from a long history of dancing with a couple of decades of Ballet, Jazz and Contemporary and several years of teaching. But since her first Lindy Hop class in 2011, Serena has been hooked on Swing. She performed at her first ball after only 6 weeks and continues to perform as a member of the Harbour City Hoppers since 2013. Serena has been teaching locally and interstate since 2014.
And it's not just Lindy Hop – Balboa, Blues and Aerials all contributed to cement Serena's Swing-addiction. The gorgeous vintage clothing certainly didn't hurt either!
Serena's aim is to share the thrill of dancing with as many people as possible. So every class Serena focuses on being practical and accessible, adjusting to the needs of her students so everyone is included and having fun!
(Photo credit: Andy Firth)