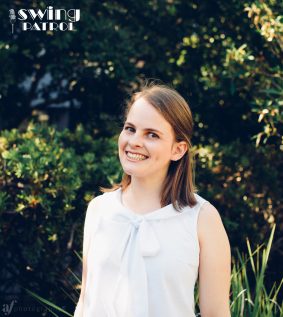 It was just by chance on a night time walk through Glebe in 2014 that Renee passed the Glebe Town Hall and saw that Swing Patrol sign. "What is a Swing Patrol?" she wondered. She went back the very next week for her first class to find out, and was hooked instantly! Since then, her obsession has continued to grow, leading her to dance around Australia and the world.
Renee is a die hard lindy hopper and solo jazzer, but also dables in basically anything you can lead on her! Renee is regularly spotted on the social dance floor soaking up those jazz feels, so ask her for a dance!
Renee is excited to be teaching at Glebe, where her love for lindy hop began, teaching along side her dance bud Cameron, with whom she took home the title of Lindy Hop Apprentice Champions in the Australian Swing Dance Championship (ASDC) in 2016, and placed with in the Strictly Lindy at the ASDCs in 2017. She can also be found performing with the Jazz Chorus team, who took out first place at the ASDC teams showcase in 2018!
Learn to dance with Renee, Tuesday nights at Swing Patrol Glebe.
(Photo credit: Andy Firth)