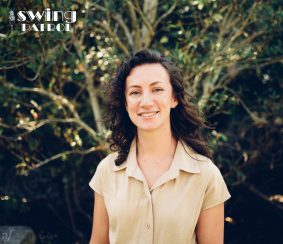 Lani started dancing one night in 2010 at a Swing Patrol class in Paddington. She instantly fell in love with the music, the community and of course swinging out. A year later she was not only hooked on Lindy hop but Balboa and Solo Jazz as well, and more recently adding tap dancing into the mix too.
Lani has been teaching full time at Swing Patrol's Newtown venue since late 2016. It's a highlight of her week to see students discover Lindy hop and see people so positively impacted as they connect with each other and the music. Lani teaches with a focus on partnership and the encouragement of creativity. Outside of swing dance, Lani also enjoys the fun and creativity of circus aerials!
Learn to dance with Lani, Monday nights at Swing Patrol Newtown.
(Photo credit: Andy Firth)