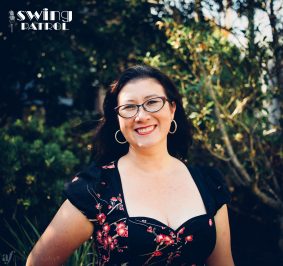 Way back in 2008, Jo went to her first Swing class and has been hooked ever since! A long time jazz fan, what started with a love of the music quickly developed into a passion for the dance and a real appreciation for our wonderful community of swing dancers. Soon she was finding every opportunity to travel Australia for dancing and was a member of the Harbour City Hoppers performance troupe for several years.
She started teaching in 2015 and focuses on making the class FUN – she doesn't believe that any one "can't" dance – just that they haven't learned yet! She really loves helping people relax, find their own style, and feel the joy of Swing dancing.
In 2010 she discovered Blues dancing and now shares her love equally between Swing and Blues. She runs Swing Patrol's monthly Blues night, Swing Patrol Juke Joint Blues, with her partner Andy Firth. Together they have traveled around Australia and the world learning and dancing Blues – a real highlight was winning a coveted place at the 2017 Blues Experiment in USA.
Jo really loves exploring connection, flow and momentum in dance, and how you can bring your personality and creativity to the floor. She's always looking to "bring some sass" and a sense of fun and playfulness to everything she does and she loves to be asked to dance!
Learn to dance with Jo, Monday nights at Swing Patrol Chatswood or the 1st Thursday of the month at Swing Patrol Juke Joint Blues.
(Photo credit: Andy Firth)