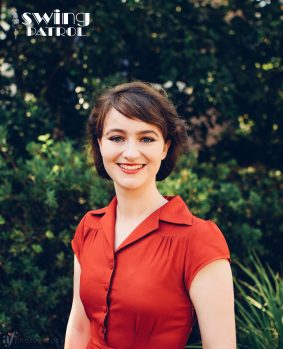 Em first decided to try swing dancing because she thought it looked incredibly fun. She decided to continue with swing dancing because she found it to be as fun as it looked!
It only took a couple of classes to spark Em's enthusiasm for swing dancing; and that enthusiasm multiplied again once she discovered social dancing and Lindy exchanges! Some of her favourite things about swing dancing: the shapes, the rhythms, the connection and the scope for improvisation and creativity.
In addition to teaching and social dancing, Em loves performing and is a member of the Harbour City Hoppers dance troupe. She has dabbled in several other dance styles over the years (especially Tap and Irish dancing), but currently spends most of her time dancing Lindy Hop and Balboa. She also completed a minor in Dance at university and loves reading about the history of the dances she learns.
Learn to dance with Em, Tuesday nights at Swing Patrol Paddington.
(Photo credit: Andy Firth)