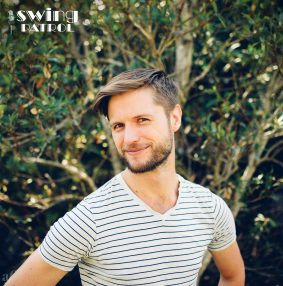 Derek G has always enjoyed old school things; great movies like Casablanca and The African Queen, classical and jazz music, and snazzy waistcoats! This love of the old found new life in 2012 when his birthday present of a dance class turned into a new-found love of all things swing.
Within 6 months, Derek found himself performing in the Harbour City Hoppers, dancing every second night of the week, and digging up his dad's old jazz records. Since the day he began, you can always spot Derek as the dancer with a giant goofy grin who never leaves the floor. He is particularly well known throughout the scene for his high energy classes and endless enthusiasm.
Derek has been teaching since 2016 when he took up the role of Swing Pit's lead anchor. Teamed with one of Swing Patrol's longest running teachers, Trish C, Derek loved learning the art of putting together a class so that everyone gets something out of it, and how to run a venue to be inclusive and supportive. When the Newtown lead position became available in 2017, he was the first pick for the spot!
With a focus on social dancing, goofy fun, and a thorough knowledge of aerials, he is involved in almost every aspect of the scene whether it's MCing an event, running aerials workshops, competing (both locally and internationally), DJing at Swing Pit, or putting together silly (but fun) promotional clips!
"I love this scene for the way it invites anyone and everyone in. Whether you're here to make friends, learn to dance, get some exercise or just because you love the music, there is a space here for everyone. I think that's rare in a scene, but once you're part of the swing dance family you'll always feel right at home."
Learn to dance with Derek, Monday nights at Swing Patrol Newtown or the 2nd, 4th & 5th Fridays of the month at Swing Pit Sydney.
(Photo credit: Andy Firth)