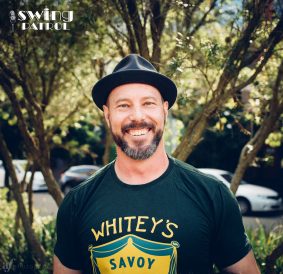 Growing up, Derek always loved the 1930-40s style and, after he was dragged along to his first dance lesson by a friend, there was no looking back.
He started dancing late 2001 with a strong interest in the history of the dance as well as an interest in teaching with a focus on technique, rhythm and style with an emphasis on natural and fun movement.
"What I like most about swing dancing is the social aspect of the dance, and how you can walk into a room and not know anyone there and instantly you all have something in common."
"My most favourite swing memories to date have been
– meeting and learning from Frankie Manning,
– attending the 2010 Balboa Experiment.
– teaching the finalists from the popular TV program – Dancing With The Stars! in 2006
– working on the hit television show Underbelly : Razor as chief choreographer, teaching principle scene actors how to dance authentic 1920s Charleston style, Waltz and even a Tango. I also appear in the program as a dance extra."
Learn to dance with Derek, Monday nights at Swing Patrol Chatswood.
(Photo credit: Andy Firth)