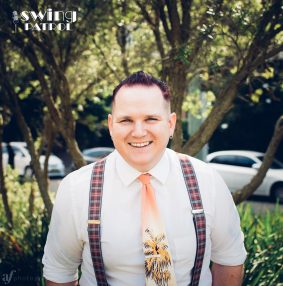 Dean started dancing in 1999, after watching dance scenes in old movies. He has spent time learning, competing, performing and now teaching in various styles including Rock 'n' Roll, Rockabilly, Ballroom, Latin and most dances under the Swing umbrella. He has been in various performance troupes and has been involved in, as well as choreographed performances at corporate, private and public events.
Dean is crazy about the things that go along with the dance styles, including music and clothing and cars. You can regularly find him working as a DJ and collecting Vintage Clothing.
Dean is passionate about building social dancing skills for dancers of all levels.
Learn to dance with Dean, Tuesday nights at Swing Patrol North Sydney.
(Photo credit: Andy Firth)