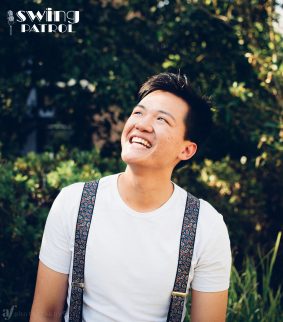 With no dancing experience whatsoever, Cameron was dragged along by his friends to his first swing dance class at Swing Patrol in 2014. Since taking his first 'Rock Step' he just hasn't stopped dancing! Cameron can pretty much always be found on the social floor, soaking up all the wonderful swing jazz, meeting wonderful people in the swing community and generally having a blast dancing!
One of the things Cameron loves is being a part of the swing dance community and making the scene grow bigger and brighter! "The Lindy Hop community in Sydney and all over the world is so open and welcoming. You really make a wonderful group of friends that are super lovely and friendly!"
Cameron's dancing philosophy is to have a fun time social dancing with everyone. He aims to create a lovely communication with each dancing partner; to Cameron it makes the music seem unique and special, as it becomes a new dance, a new conversation, every single time. His aim in a class is to bring in some of the joy he gets from social dancing and to share it with everyone.
This love of dancing has led Cameron to take home the 2016 ASDC Lindy Hop Apprentice Championship with his dancing partner Renee, as well as making the Strictly Lindy Finals in the 2017 ASDC. Cameron loves the challenge of attending international workshops like Hong Kong Swing Festival 2015 and 2016.
To Cameron, music is integral to Lindy hop and he fell in love with it at his first Lindy hop class. It makes sense then that he has developed into a regular DJ on the Sydney scene. His aim as a DJ is to keep people dancing all night long! Either with classics from the likes of Count Basie and Duke Ellington but also sharing other swing songs which other people might not have heard of! Cam is always listening to new music to discover new artists and music that he can share with his fellow dancers.
Learn to dance with Cameron, Tuesday nights at Swing Patrol Glebe.
(Photo credit: Andy Firth)