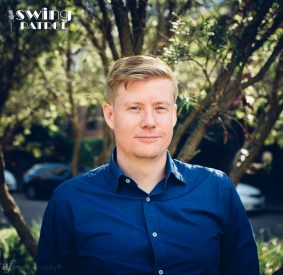 One Friday night Ben happened to wander past a bar overflowing with live jazz and swing dancers having the time of their lives. He has been dancing non-stop ever since that fateful night.
Lindy, Blues and Balboa are rival favourites – please don't make him choose! Whether leading or following, his love of dancing shines through in each style! Ben sees Lindy as a real crowd pleaser; with plenty of variety across a wide range of tempos, Lindy offers something for everyone. And you just can't beat a good swing out!
With Balboa and Blues, Ben is drawn to the musicality, flow and overall aesthetics. And most especially he loves the versatility that these styles offer to accentuate riffs, notes and rhythms on multiple levels.
Ben has been teaching since 2016 and has been a core member of the Harbour City Hoppers performance troupe since 2014. He loves this great social and creative outlet and would love for you to join in a class with him and see what it's all about!
Learn to dance with Ben, Tuesday nights at Swing Patrol Paddington.
(Photo credit: Andy Firth)