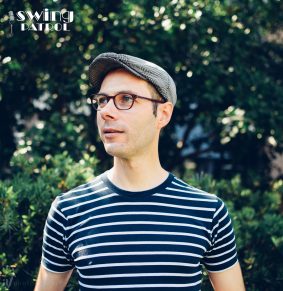 After a challenge from a friend (also a dancer), Andy went to his first class – by himself – in 2010 and has been Swing dancing ever since. Although those first few classes were a challenge for his two left feet, Andy kept going, simply because it made him happy. The music, the people, the enthusiasm of the teachers, the joy of just dancing — there's really nothing he doesn't like about Swing.
Fast forward, Andy now gets to share that passion by teaching others the joy that is dancing, be it Swing or Blues. "Relax and have fun!", a phrase you'll hear him repeat again and again. And that's because it should be! He'll remind you too that it's not an art of perfection, but an activity and journey of enjoyment.
Along the way Andy discovered Blues, and met his partner Jo Yuen. Now he splits his time between both early African-American dance forms, and is teacher and co-coordinator for Swing Patrol's monthly Blues social, Juke Joint Blues. With Jo, he has traveled to Asia and the USA to attend various dance exchanges, including to the USA in 2017 as attendees of the Blues Experiment.
"Dancing really makes me happy, and Swing Patrol helped me achieve that. I don't want to be the best dancer in the room, I want to be having the most fun! It's not about the number of moves you learn or wowing your partner with technique, not for me, but making sure we both enjoy the moment and walk away with smiles on our faces."
Learn to dance with Andy, first Thursday of the month at Swing Patrol Juke Joint Blues.
(Photo credit: Andy Firth, with Jess Bayfield)