Swing Patrol Class Discount Cards and class shut down
by swingadmin on 18th March 2020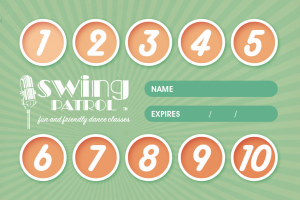 Re: Swing Patrol Class Discount Cards and COVID-19 related class shut down
If you currently have Class Cards, or are considering purchasing any, please note that we have revised the 12-month validity policy.
In order to be sure to cover any time that cards can't be used during class shutdown, and as a gesture of good will, all existing Swing Patrol Class Discount Cards with expiry dates between 14 March 2020 and 25 April 2021 will have an automatic extension of 12 months applied.
So, for example, if a Class Card has an expiry of 20 March 2021, it will be honoured until 20 March 2022.
You do not need to apply for this extension – it will be standard policy when classes resume, and apply to any cards with expiry dates between 14 March 2020 and 25 April 2021 .
Any Class Cards purchased during the period of class shutdown will be issued with a standard 12 month expiry written on the card, but the special 12 month extension will apply.
When the current public health crisis has subsided and classes re-open, any Class Cards purchased from that date onward will be valid for 12 months only, and can only be used up to the expiry date written on the card.
More about Class Discount Cards
We look forward to being able to meet on the dance floor again.