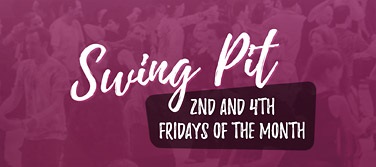 Swing Pit

As of 15 March 2020Swing Pit classes and social dancing are currently on hold, due to current world-wide health concerns.Please watch this space, and stay safe.

A fun night of social dancing and classes that welcomes everyone to the dance floor!

7:00pm: Level 2 class – Intermediate
Intermediate
Know the basics and looking for a little more challenge? Keen to add some moves to your repertoire? or just need your weekly Lindy Hop fix? Then you want to be in this class. New moves, new styles, new challenges, with a focus on getting the most out of the social dance floor.

8:00pm: Level 1 class – total Beginners
New to dancing, and looking to try out your new skills? Been dancing for a hundred years and hungry for a night out? Swing Pit has something for everyone, on the 2nd and 4th Fridays of every month. Swing Pit is the place to take your very first swing dance class or to make new friends before taking to the social dancing floor with Sydney's lindy hopping (and balboaing and solo dancing) fiends.
9:00pm til late: Social Dancing
Social dancing what we're all about at Swing Patrol: meeting new people, dancing with friends, enjoying the music and the FUN of lindy hop! Swing Pit welcomes new dancers to the swing world, and offers DJed and live music for everyone to enjoy, whether they've been dancing for just an hour, or the whole century.
See you on the dance floor!