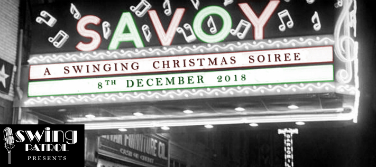 Swing Patrol's Savoy-Style Swinging Soiree
The Savoy Ballroom was described as "a building, a geographic place, a ballroom, and the 'soul' of a neighborhood" by Barbara Englebrecht. The owners and managers sought to run a "luxury ballroom to accommodate the many thousands who wished to dance in an atmosphere of tasteful refinement, rather than in the small stuffy halls and the foul smelling, smoke laden cellar nightclubs…" (Charles Buchanan). Music was continuous at the Savoy as the alternative band was always in position and ready to pick up the beat when the previous one had completed its set. (Source: Wikipedia).
How this piece of history has inspired us:
In the beautiful art-deco Balmain Town Hall, two bands will play continuously all night long! The always amazing Sara Jeanne and the City Gents will switch sets with the super fun Arthur Washington Sexytet! That's right, no band breaks, just live music all night! And we are asking, in the spirit of the luxurious Savoy, for you to dress up and dazzle in your vintage-inspired best!
WHEN, WHERE & WHAT
Where: Balmain Town Hall – 370 Darling St, Balmain NSW 2041
When: Saturday 8 December 2018
Time: 7pm – 11pm (First band starts at 7.15pm, so don't be late!)
Theme: stylish Savoy Ballroom (optional!)
Music: Sara Jeanne and the City Gents AND The Arthur Washington Quintet!
Food & drink: BYO food and drinks, including alcohol.
We recommend that you bring your own water bottle as well, because we won't be supplying single-use plastic cups (let's help the environment!!)
Seasonal giving: We are asking for gold coin donations for partaking in a selection of baked goods, with all proceeds going to the Black Dog Institute.
Bakers: For anyone who wishes to bring along some baking to share, you will receive $5 cash back on your ticket price. Just be sure to email info@swingpatrol.com.au to register as a baking contributor and get all the relevant information!
Optional silliness: We will have a couple of performances and much fun happening! And when you're taking a break, be sure to get a snap at the photobooth and capture your amazing outfit! But most importantly, there will be LOTS of dancing!
TICKETS
Online ticket price: $40 adults, $20 kids 5-15 years
available until midday Friday 7 December
On-the-door cash only ticket price: $50 adults, $20 kids 5-15 years
Online sales close at 12pm Friday 7 December 2018, or until sold out.
After that time, tickets will only be available for full cash price at the door, or until sold out.
Bookings now open!
Book now
The Savoy always had a no-discrimination policy. All they wanted to know when you came into the Savoy was, "do you dance?". (Source: Wikipedia). And that is Swing Patrol's policy too. We welcome all people irrespective of race, religion, political views, gender, marital status, sexual orientation, employment status, age or two left feet. This is strictly a safe place to dance and we want you to be comfortable every second with us. Contact us at info@swingpatrol.com.au at any time should someone be making you feel uncomfortable and you would like us to call you to discuss the issue. Come and enjoy a special journey with us and a really great community of dancers.