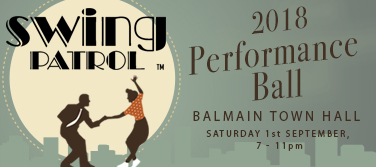 Swing Patrol Sydney Performance Ball 2018
Swing Patrol's night of nights, where YOU take centre stage.
Dress-up and swing out at the Performance Ball! An undeniable highlight of the swing calendar as dancers hit the floor for a night of fun, energy, applause and sensational swing dancing! Our amazing students perform routines they've been working on together in their regular Swing Patrol classes, to the cheers of our community and friends!
Join us as we celebrate the talent and courage of our dance community – many of whom will be performing for the first time ever! Bring all your friends and family to this one, there's lots to see and do and it's a great intro to swing.
Beginner-friendly swing class at 7.30pm – for any friends or family who want to watch you perform, this is the perfect introduction to swing dance.
Join in the dancing yourself as swing DJs play for you throughout the evening!
Don't miss the show everyone will be talking about!
Event Details at a Glance
When: Saturday 1 September 2018
Where: Balmain Town Hall, 370 Darling St, Balmain
Times:
7.00pm Doors open
7.30 – 8pm Beginner-friendly swing lesson (complimentary)
8pm – 11pm Social dancing and Performances
Dress: glam up!
Drinks & food: BYO

Costs and Ticketing
Class Value Pass $160 (available online only)
Includes:
1 x Performance Ball Ticket (value $30)
1 x 10 Class Card posted to the purchaser (value $160)
– For online purchase only
– Postal address to be supplied at time of purchase
– Allow 7 days for postage
– No refunds on this option
– 10 class pass has a 6 month expiry
Dancers/Performers Ticket
Online: $30
Cash at the door: $35
Includes entry to the Ball for all those performing and anyone coming to swing out on the fabulous Balmain Town Hall dance floor.
Non-dancers Ticket
Online: $15
Cash at the door: $15
A special ticket for our non-dancing friends – family, friends, colleagues, anyone who wants to come along and watch the show. No dance shoes required!
This ticket includes entry for the complimentary beginner lesson at 7.30pm.
Kids under 15: free
Book now
Online Ticket Sales will close strictly at 5pm Thursday 30 August 2018.
Only cash sales at the door available after close of online sales.
After Party
When: 11.30pm to 2am
Where: Latin Dance Australia – Suite A/263 Broadway Rd, Broadway NSW 2007 (near corner of Glebe Point Rd)
Who: Lovers of late nights, performers celebrating their dance floor triumphs, anyone who wants more dancing!
Band: The Squeezebox Trio
Cost: no online tix – cash at door only
$15 for Performance Ball attendees
$25 for general entry
Join the Performance Ball After Party with LIVE BAND Facebook event for details.

Frequently Asked Questions
I'm performing – do I need to purchase a ticket?
Yes, everyone needs a ticket to get in! You will need to purchase a Dancers/Performers Ticket or a Class Value Pass.
What is this "Class Value Pass"?
This is a first for Swing Patrol Sydney! Available online only. Includes a Swing Patrol 10 class pass PLUS a ticket to the Performance Ball for only $160 – that's a saving of up to $35!
How does a class pass work? Simply present your card at any Swing Patrol venue and a circle is filled in for each class, and half a circle for the second class you do at the same venue on the same night. Valid for 6 months from date of purchase. No refunds or extensions on the class pass.
What is a "Non-dancers Ticket" ticket?
This "Spectator-Only" ticket is for anyone coming along to see the performances, but who has never done a swing dancing class before. They are of course welcome to join in the beginner class and to give dancing a try throughout the evening. For example, if your mum, dad, cousin, neighbour, best friend, cousin, work friend or a random off the street wants to see you perform, but they don't normally go dancing, then we know that it is a lot to ask them to pay for a full ticket and so we have provided these "Non-dancers Tickets" so that you can show them what this swing dancing thing that you do is all about.
I'm not performing, doesn't that mean I can purchase a Spectator ticket?
If you are a dancer, but aren't performing, you will still need to purchase a Dancers/Performers Ticket, as you will be able to enjoy all the dancing in-between performances.
Can I bring my non-dancing friends?
Yes! This is a great event for friends and family to come and finally see what you're doing in swing and what it's all about. Bring a team to support all of our awesome dancers as they put on their best performance smiles! (someone brought their whole netball team once …) There is nothing like performing to those we love, so the more the merrier. There's a short beginner lesson at the start of the night, for everyone wanting a taste of this thing called swing!
Do my non-dancing friends need a ticket?
Yes! If they aren't planning on dancing then they can purchase a Non-dancers Ticket for $15.
Can I get a ticket at the door?
Yes, absolutely, but we advise you to pre-book for convenience, and to save a little money with the online discount.
***Note that online ticket sales close automatically at 5pm Thursday 30 August 2018.
I'm anxious about performing on the night!
It's natural to be nervous – performance adrenalin can help give you extra energy and you'll be surprised how fast it goes by. Be assured there is no audience like a swing dancing audience and you will be supported and cheered on as you take to the stage. Of course you don't have to perform – but experience shows that even first timers want to get straight back out there and do it all again!
What do I need to wear?
What you wear on the night is totally up to you.
As a spectator, you might want to dapper-up a bit with a nice suit or a fancy frock. If you want to get into some vintage clobber, think 1930s or 1940s. But there's no strict dress code, so wear whatever makes you comfortable.
If you are performing, most venues will have a 'costume' planned. So make sure to listen to your teachers about what you need to wear on the night.
Shoes: Top tip from seasoned performers – you never know what the floor surface will be like – come prepared and bring extra shoes if you're not sure!
Whatever you end up wearing, make sure it's comfortable – because there's plenty of dancing fun planned!
Will there be lots of room to sit down?
There will be seating but it will be limited. There is no reserved seating and it's simply a case of first in = first seated! We always save most of the floor for dancing, dancing, dancing!
Watch performances from the 2017 Ball
HERE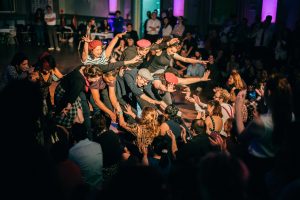 We welcome all people irrespective of race, religion, political views, gender, marital status, sexual orientation, employment status, age or two left feet. This is strictly a safe place to dance and we want you to be comfortable every second with us. Please view our Code of Conduct or contact us at info@swingpatrol.com.au for more information.
Graphic design by Chris May