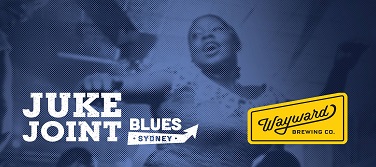 Juke Joint goes Wayward
We're heading back to Wayward Brewery for another night of Blues and Brews!!!
These Pop-Up Juke Joints were a great success in 2018, so we're bring them back. More dance space, special extended lesson for experienced Blues dancers, social dancing to Sydney's best Blues DJs and craft beers on tap!
And don't worry, your regular Juke Joint will still be on the first Thursday of every month at the Different Drummer in Glebe.
As always, no partner required, and no bookings necessary, just come along and pay cash at the door. If you do the class you'll also get free entry to the social, with Sydney's finest DJs playing for your dancing pleasure.
Where:
Wayward Brewery is an awesome space in Camperdown with delicious craft beers and an industrial vibe. Plus, did we mention that the place is HUGE and we have it all to ourselves for the night?
Schedule:
6.00pm Doors open
6.30 – 8pm Intermediate class: Ballroomin' Blues
8 – 9.45pm Social dancing
10.00pm Home time
Class Level: This is an intermediate class and we won't be spending much time on basics. So to get the most from this class you'll have some experience with Blues and an understanding of how to lead or follow classic moves like the inside and outside turn.
If you're new to partner dancing, you're welcome to join in social dancing from 8pm, and don't forget regular Juke Joint Blues beginner classes on the first Thursday of every month.
Tips:
Wayward has a smooth concrete floor so you might prefer to bring slippery shoes rather than rubber soles. Please support the venue by buying some drinks and take advantage of their delicious craft beers, or order pizza at the bar!