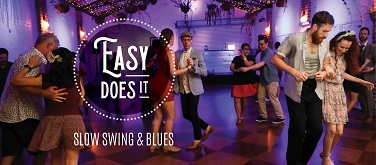 Easy Does It – slow swing and blues
Do you want to be able to have a great time dancing to a slow song? Becoming a really good dancer means being able to dance at ALL the tempos, including the slow ones.
It's not as hard as you might think – in this workshop we'll explore some specific techniques and moves that will make your slow dancing look and feel great!
The first half of the workshop will explore the beautiful style of Ballroomin' Blues, danced to slow jazz and blues music. We'll focus on the Savoy Walk style of Blues which is a wonderful way to experience great connection with your partner and the music, and express your creativity. It's also a wonderful way to really work on your slow dancing technique, not to mention a whole lot of fun!
In the second half we'll switch styles to slow swing, and show you how some of the techniques and ideas that we've learned in Blues can really add to and improve your swing. We'll be working on the quality of our movement, styling, connection, and how we can use ALL the time to really elevate our swing dancing too.
This class is aimed at intermediate level dancers, so if you were doing Level 2 swing classes pre-COVID then you'll be fine. To make the most of this class you'll be comfortable doing swing outs, inside and outside turns. You don't need to have any Blues experience, but if you've done some Ballroomin' Blues before we'll be sure to give you some extra goodies to work on.
Take a deep breath, relax, you've got this!
WHEN & WHERE
Date & Time: Saturday 19 June 2021
**Check in 11.45am, starting soon after. Finish 2.15pm**
We'll have drink/rest breaks along the way.
Venue: St Stephen's Church Hall – 189 Church St. Newtown NSW 2042
COST AND REGISTERING
$40 per person
$80 Pair Pass (1 Lead & 1 Follow)
If you're registering for you and a friend, make sure you register Leads and Follows separately by clicking "Buy more tickets" – please don't book 2 Follow tickets for a Follow and a Lead. Or you can buy a Pair Pass in one single transaction (for 1 Lead and 1 Follow.)
Attendance is by online registration only. Places are strictly limited due to venue density regulations.
Registrations will close at 9pm on the Friday prior to the workshop.
Book now
Swing Patrol and Covid Safety
Swing Patrol will take the following precautions to prioritize the safety of students, teachers and the wider community.
* DO NOT come to the workshop if you are unwell, if experiencing any Covid symptoms, if you have been in contact with a positive Covid case or have recently been at an identified case location. Refunds will be available if you need to cancel due to illness/Covid Safety.
* QR code check-in is mandatory at the workshop, even if you have pre-booked online. Please have your smart phone with you. Our teachers will assist if your phone can't access the QR code.
* Everyone will sanitise hands upon entry to and exit from the venue, and sanitiser will be available for use throughout the workshop. You may wish to bring your own mini hand sanitiser to use during class, to speed up the process.
* No shared water or food, no water glasses provided, no mints or lollies/snacks. BYO water bottle.
* We ask that you observe and comply with signage displayed at the venue, as we must operate in accordance with St Stephen's Church Hall's Covid Safe Plan.
* Face Masks should be worn in accordance with current NSW Government guidelines. Where masks are not mandated, attendees may choose to wear a mask at any time before, during or after class. Note that masks are not recommended when out of breath or puffing from strenuous exercise (eg. dancing) and that masks are less effective when damp. Always handle masks with care and do not dispose of your mask at the venue.
Click here to read more about Swing Patrol's Covid Safe Plan.
WHAT TO BRING
Comfortable shoes (most swing dancers don't wear heels), deodorant, spare t-shirt, small towel, band aids, hand sanitiser – swing dancing is exercise, and you may well break a sweat, so be prepared.
You must bring your own water bottle, and any snacks you might want during the session. There will be no shared water or food, no water glasses provided, no mints or lollies/snacks on the table.
Please bring your smart phone with you, for mandatory check in by QR Code.
NO PARTNER REQUIRED
No need to register with a partner. We will change partners throughout the workshop – a great way to meet new people, all sharing the same fun learning experience. We find that changing partners improves the learning experience, but, if you come with a partner and do not wish to join in the rotation, just let us know at the start of the session and we'll manage accordingly.
Lead or Follow?
We will be teaching partnered swing/blues dancing, in which one dances as a Lead or a Follow. We don't mind which role you do!




Want to know more?

Swing dancing is a partner dance, in which there's a Lead and a Follow. The Leader "directs" the dance, indicating the moves and the direction. The Follower responds to the lead, but has room to add personal styling/embellishments. Like jazz/swing music, it's seen as a "call & response" partnership.
If you equate it to something you may be familiar with, such as Waltz or Quickstep (like Fred Astaire & Ginger Rogers), then the male is usually leading and the female following.
At Swing Patrol, we do make every effort to encourage people not to choose which role they learn simply based on their gender, and many people do dance both the lead and follow roles. Choose whichever you wish for this workshop, but it's easier to stick with the same role throughout the whole lesson.
Please email info@swingpatrol.com.au if you have any questions about these roles.
Cancellations and Refunds
COVID SAFETY
DO NOT come to the workshop if you are unwell, if experiencing any Covid symptoms, if you have been in contact with a positive Covid case or have recently been at an identified case location. If a pre-booking has been made, Swing Patrol will provide a full refund. Contact info@swingpatrol.com.au
If a Teacher is unable to attend due to illness/Covid Safety, and a substitute teacher cannot be found, the workshop may be cancelled at short notice. Students will be contacted via booking information and via social media to advise of workshop cancellation. Pre-bookings will be refunded if Swing Patrol cancels a workshop.
OTHER CANCELLATIONS
Due to current density restrictions, numbers are strictly limited. Therefore, if you wish to cancel for a reason other than illness/Covid Safety, refunds are not possible without 24 hours notice as we may have turned away other dancers. Thanks for understanding.
Where applicable, a full or partial refund (less administration fee) may be available up to close of registrations, if cancelling for a reason other than illness/Covid Safety. Contact info@swingpatrol.com.au
After close of registration, no refunds will be issued, unless cancelling due to illness/Covid Safety.