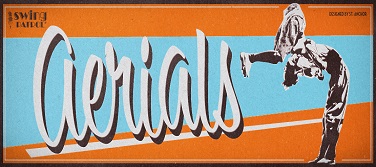 Dips, Lifts and Aerials
Aerials are a truly iconic part of Swing Dancing – swing legend Frankie Manning's eyes would light up when talking about air steps.
You too can add pizzazz to your dancing with achievable but impressive dips and lifts.
Whether you're a beginner dancer, brand new to aerials, or have some experience and looking for more challenge, our Dips, Lifts and Aerials workshop has something for you!
One session will cover some fun dips and lifts to highlight your dancing – all very achievable and nothing upside down! No need to register with a partner as we'll change partners throughout the session. These moves are designed to be achievable with anyone.
The next session is an aerials workshop for those with the confidence to take a challenge. You'll need to register with a partner, we won't swap partners throughout the session. If you've done beginner aerials and are ready for more, this is for you.
Come and work hard, get sweaty, enjoy the adrenaline and finish the day with a great sense of achievement.
Two dates to choose from – or do both and double your fun and achievement.
WHEN & WHERE
Choose your preferred date and book in advance. Fancy doing the workshop again? – go ahead, you'll consolidate what you've learned.
Upcoming dates:
Saturday 26 October 2019: 1.10pm – 5.00pm
Venue: ReadyMade Rehearsal Space –
Level 1, 247–257 Bulwara Rd. Ultimo NSW 2007
Entry is OFF HENRY AVE close to the corner of Quarry Lane, up the staircase to level 1.
SCHEDULE AND CONTENT
Saturday 26 October 2019
1.10pm: check in
1.20pm – 2.40pm: Beginner Dips & Lifts
2.40 – 3.00pm afternoon break/ check in Intermediate-only
3.00 – 5.00pm Intermediate Aerials
COSTS AND REGISTERING
Online pre-bookings
Beginner Dips & Lifts: $30 per person
You will register as either a Lead/"Base" or a Follow/"Flyer", but no partner required.
Intermediate Aerials: $90 per Pair Pass
Pair Pass only – for 1 Base & 1 Flyer – you must register with a partner.
Both sessions: $120 per Pair Pass
If registering for both sessions, you must register with a partner, as the Intermediate session requires a dedicated partner. Note, in the beginner session, we will rotate partners.
Online registrations will close at 5pm on the Friday before the workshop.
Book now
Cash at the door
Last Minute Intermediate rego (cash only): $100 per Pair Pass
If you loved the Beginner session and find that you're already keen for more, pay cash on the day to stay for the Intermediate session. Pair Pass only – for 1 Base & 1 Flyer – you must have a dedicated partner for the Intermediate session.
FAQS AND OTHER INFORMATION I NEED TO KNOW
* This workshop is suitable for swing dancers of various levels of experience. For either session you will need knowledge of the fundamentals of swing dancing (you should know how to do an 8-beat swing out.)
For the Intermediate Aerials session, you will also need some experience with lifts, either previous Beginner Aerials workshops, or having done the Beginner Dips & Lifts session.
* Do I need a partner?
Beginner Dips & Lifts – no partner required. We'll swap partners throughout the session. But you must register as either a Lead/"Base" or a Follow/"Flyer", so we can keep the numbers balanced and make sure everyone has the best learning experience.
Intermediate Aerials – You MUST attend with a partner, we will NOT rotate partners throughout the workshop. There are no single person tickets available. Prices are per pair only.
* What do I wear?
Shoes comfortable for dancing (flat shoes – supportive sneakers are best.)
NO leather soles, NO heels – soft soles only at this venue.
Comfortable clothing that you can really move about in. It's best for leads and follows to wear tops with sleeves (to avoid skin on skin friction where possible).
Jeans, singlets and clothing with buckles or items that can catch are not advised. Pants are generally preferable for the flyers as you will be going upside-down!
* What do I bring on the day?
Water bottle, snacks/lunch, mints, deodorant, spare t-shirt, small towel, band aids – swing dancing is exercise, and you may well break a sweat, so be prepared.
And bring a smile and lots of energy!
* Cancellations and Refunds:
Some of our venues have a fixed capacity so we close off places for participants at a set point. For this reason, cancellations and refunds are not possible without 24 hours notice as we may have turned away other dancers. Thanks for understanding.
Where applicable, a full or partial refund (less administration fee) may be available up to close of registrations. Contact info@swingpatrol.com.au
After close of registration, no refunds will be issued.
We are pretty friendly and approachable so send an email and hopefully we can assist you!
* Any other questions?
Any questions, email info@swingpatrol.com.au
YOUR TEACHERS
Derek G
Derek has been dancing since 2012, when his birthday present of a dance class turned into a new found love of all things swing. Within 6 months he found himself performing in the Harbour City Hoppers and has been a well known face throughout the scene ever since. Derek has been teaching since 2016 when he took up the role of Swing Pit's Lead teacher. He has a strong focus on social dancing, goofy fun, and, of course, the occasional aerial.
Jos Wright
Profile coming soon …
Need some inspiration? Watch one of the most famous lindy hop sequences ever filmed, and some of the most spectacular aerials.