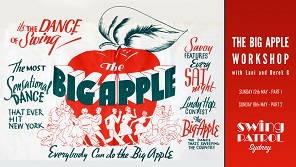 Big Apple workshop
The Big Apple was a dance popular in the 1930s, and became canonised on film by Whitey's Lindy Hoppers in the 1939 film "Keep Punching". This choreographed version of a "ring shout" demonstrates a dancer's skill and athleticism, while also being a great showpiece and a hell of a lot of fun! Today, lindy hoppers and jazz dancers perform this incredible routine at social events and balls all around the world. This May, we're going to teach the whole routine from the beginning in two special sessions! (Just in time to do it at the Meet the Scene Ball!)
WHERE & WHEN
Venue: Latin Dance Australia (studio 2) – 263 Broadway Rd, Glebe 2007
Yes, the studio has airconditioning.
Dates:
Sunday 12 May, 2pm – 5pm
Sunday 19 May, 2pm – 5pm
Please arrive in time to check-in at 2pm and be ready to dance soon after.
SCHEDULE AND CONTENT
Sunday 12 May (Part 1) – up to and including the "London Bridge"
Sunday 19 May (Part 2) – choreography from the "London Bridge" and beyond
Each session will teach the choreography from scratch, assuming a basic knowledge of solo jazz steps. The format should allow enough time to cover the routine, including time to practice several times and take a short break at halfway. If we finish early on either session, we will add some styling or variations for those who would like extra content (or time to go over any of the trickier sections).
By the end of both sessions, participants should be comfortable with the choreography to dance the routine socially.
If you have already learned all / part of it, this will be a great chance to break down or revise the steps too.
COST AND REGISTERING
$40 per person for one session (either date)
$60 per person for both sessions
Attendance is by online registration only.
Registrations will close at 5pm on the Friday prior to the workshop.
Space is limited so register soon!
Book now
Want to know more?
A rough history: https://en.wikipedia.org/wiki/Big_Apple_(dance)
Keep Punching clip: https://youtu.be/mmJ3aYozGMk
Big Apple danced by a dinosaur: https://youtu.be/2pZ2zI86B4E
Teacher Demo to a live band: https://youtu.be/f18mTL-bLxI
YOUR TEACHERS
Lani Z and Derek G from Swing Patrol Newtown!
WHAT TO BRING
Comfortable shoes (most swing dancers don't wear heels), water bottle, snacks, mints, deodorant, spare t-shirt, small towel, band aids – swing dancing is exercise, and you may well break a sweat, so be prepared.

No partner required
This is solo jazz dancing, no partner required. You will not need to stipulate whether you lead or follow.
Cancellations and Refunds
Some of our venues have a fixed capacity so we close off places for participants at a set point. For this reason, cancellations and refunds are not possible without 24 hours notice as we may have turned away other dancers. Thanks for understanding.
Where applicable, a full or partial refund (less administration fee) may be available up to close of registrations. Contact info@swingpatrol.com.au
After close of registration, no refunds will be issued. Transfers will incur an administration fee.
We are pretty friendly and approachable so send an email and hopefully we can assist you!