Winter Ball is coming
by swingadmin on 31st May 2017
Swing Patrol Winter Ball
Saturday 22 July 2017
The Village Church: 122 Johnston St. Annandale NSW 2038
Every winter, Swing Patrol struts it's stuff at the Winter Ball, with students from class venues performing routines to show show their skill and shine like superstars.
Whether you're a veteran performer or a brand new dancer, we encourage everyone to get involved.
Even if you don't want to perform, you're more than welcome to join the fun of learning a routine.
Q: Why learn a swing dance routine?
1) Knowledge!
Routines are a collection of great swing dance moves which can typically be lead/followed on the social floor. Learning the choreography helps you understand transitions, phrasing, timing and musicality, and adds things to your repertoire (new moves, styling) that you will likely use for years to come.
2) Practice!
By the time the Ball comes around, you'll have danced these moves so often you'll have them nailed. You'll be surprised how natural it feels when you dance them socially. And all that work means you'll be a better dancer.
3) Community!
Join with your friends and fellow dancers and share the fun and reward of achieving a goal.
4) Elation!
There's no crowd like a swing crowd, cheering you on.
Routine season is underway. Learn some new moves at:
Swing Patrol Glebe
(Level 1/2 routine in the 8-9pm timeslot)
Swing Patrol Newtown
(Level 1 routine @ 7-8pm, Level 2 routine @ 8.30-9.30pm)
Swing Patrol North Sydney
(Level 1/2 routine in the 7.30-8.30pm timeslot)
CLICK HERE for full details on The Winter Ball. Tickets on sale now.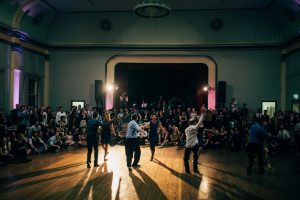 (photo by Nick McKinlay – Winter Ball 2016)