A night for all swing dancers
by swingadmin on 21st April 2017
Meet Our Scene Pub Party 2017
This wonderful annual tradition is a night for the whole swing dance community.
We welcome new dancers, catch up with old friends, revel in the joy of swing, and dance dance DANCE!
Hot jazz, games, strolls, drinks, food and having fun.
Swing out, shuffle, shag, charleston and shimmy to your heart's content.
When: Friday 12 May 2017, 7pm – 11.30pm
Where: Imperial Hotel – 252 Oxford St. Paddington
Who: Everybody! Total beginners & seasoned lindy hoppers, newcomers & oldtimers, teachers & students – everyone is welcome at this party, where our community comes together to celebrate the dance we love.
Book your tickets online or pay cash at the door on the night.
For full details and booking info, CLICK HERE.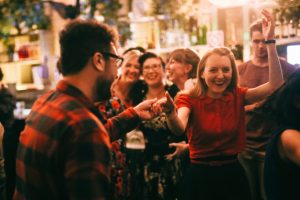 (Meet Our Scene Party 2016 – by Nick McKinlay)