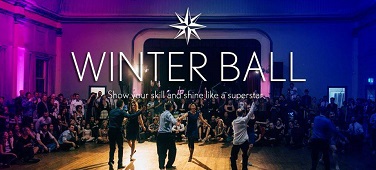 Winter Performance Ball 2017
Oh the weather outside is frightful (and a fire would be so delightful)… but we all have a place to go…
Winter Ball 2017 is upon us!
Join us for a night of dancing, live music, socialising and amazing performances. We have a new venue, an exciting band and our friends from Help Bar will be back providing refreshments.
Event Details at a Glance
When: Saturday 22 July 2017
Where: The Village Church, 122 Johnston St, Annandale NSW 2038
Times: 7.00pm – 11.30pm
Doors open 7.00pm
Beginner Lesson (complimentary) 7.30-8.00pm
Band commences 8.00pm
Performances throughout the night
Cost:
$38 online bookings until 11.30am Friday 21 July.
$45 at the door on the night – cash only
Getting there
Car – Plenty of free parking on the streets surrounding Village Church. Try Johnston, Annandale or Trafalgar Streets.
Bus – To get to Village Church Annandale from the city, catch the 470 bus from the city, it travels up Booth Street and stops on our doorstep at the corner of Johnston and Booth Streets. Also the 370 bus which runs between Coogee and Leichhardt comes straight past our door. You can also catch any bus that travels along Parramatta Road. Alight at the stop closest to Johnston Street and walk for ten minutes up Johnston Street.
Train – Catch any train to Stanmore Station. From there, walk for 20mins down Salisbury Road, Northumberland Ave and Johnston Street.
Light Rail – Both Rozelle Bay station and Jubilee station are a 15 minute walk from Village church.
Social dancing
Whether you're performing or cheering during the routines, you'll want to bring your dance shoes for live music from our Winter Ball Band – there's nothing like swinging out to a live band! Bringing mum, dad and your BFF along to watch and enjoy the night? Great! There's a beginner lesson too!
Band: Andrew Dickeson's Blue Rhythm Band
An all-time favourite of Aussie swing dancers, this ensemble will get your feet on the floor and swinging out!
Volunteering
Want to get involved? Volunteering is a chance to see how an event like this is put together from behind the scenes, help out on the night and it's a great way to meet new people and make new friends in the scene.
Duties involve working at the door, setting up for the Ball, or bumping out after the Ball. All volunteers receive free entry to the Ball and massive gratitude.
If you're interested, please email teegan.swingpatrol@gmail.com
Performances
If you would like to take part in one of the performances, here is where you can go and when they are teaching:
Swing Patrol Glebe
(Tuesdays Level 1/2 8pm)
Swing Patrol Newtown
(Mondays Level 1 routine 7pm; Level 2 routine 8.30pm)
Swing Patrol North Sydney
(Tuesdays Level 1/2 routine 7.30pm)
Swing Patrol – Paddington
(Tuesdays Level 2 routine 8.15pm)

Frequently Asked Questions!
I'm performing – do I need to purchase a ticket?
Yes, everyone needs a ticket to get in.
Can I get a ticket at the door?
Yes, absolutely, but we advise you to pre-book for convenience, and to save a little money with the online discount.
***Note that online ticket sales close automatically at 11.30am on Friday 21 July.
Can I bring my non dancing friends?
Yes! This is a great event for friends and family to come and finally see what you're doing in swing and what its all about. Bring a team to support all of our awesome dancers as they put on their best performance smiles! (someone brought their whole netball team once …) There is nothing like performing to those we love, so the more the merrier. There's a short beginner lesson at the start of the night, for everyone wanting a taste of this thing called swing!
Plus there'll be fantastic jazz music from our special guest live band, making it an all-round great night out.
I'm anxious about performing on the night!
It's natural to be nervous – performance adrenalin can help give you extra energy and you'll be surprised how fast it goes by.
Be assured there is no audience like a swing dancing audience and you will be supported and cheered on as you take to the stage.
Of course you don't have to perform – but experience shows that even first timers want to get straight back out there and do it all again!
What do I need to wear?
What you wear on the night is totally up to you.
As a spectator, you might want to dapper-up a bit with a nice suit or a fancy frock. If you want to get into some vintage clobber, think 1930s or 1940s. But there's no dress code, so wear whatever makes you comfortable.
If you are performing, most venues will have a 'costume' planned. So make sure to listen to your teachers about what you need to wear on the night.
Shoes: Top Tip from seasoned performers – you never know what the floor surface will be like – come prepared and bring extra shoes if you're not sure!
Whatever you end up wearing, make sure it's comfortable – because there's plenty of dancing fun planned!
Will there be lots of room to sit down?
There will be seating but it will be limited. There is no reserved seating and it's simply a case of first in… first seated! We always save most of the floor for dancing, dancing, dancing!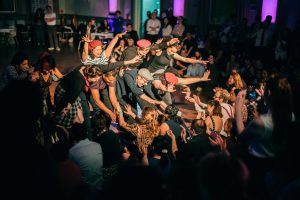 Photos by Nick McKinlay – Swing Patrol Winter Ball 2016
Book Now!