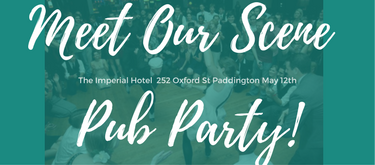 Meet Our Scene Pub Party
Meet Our Scene event is a social highlight and a great opportunity to meet everyone involved dancing in classes all round town. Known affectionately as 'The Beginners Ball', Meet Our Scene is a night the whole scene comes out to play, dance with a friend and meet a new face! It's a night for everyone to welcome newcomers to our community.
This year we're off to the pub for a relaxed pub party! We will be dancing in the heart of Paddington at the lovely Imperial Hotel. We have exclusive use of The Social Club and The Snug; one is a great room for dancing and the other a great room for relaxing, both ooze character and charm and look over Oxford Street and the historic Reservoir Gardens. In trying to bring dancing to new venues around town we're looking forward to filling the Imperial with great swing music and dancing.
Details at a Glance
When: Friday 12 May, 2017
Where: Imperial Hotel 252 Oxford St Paddington
Time: Event starts at 7.00pm, until 11.30pm
Music: Bestest DJs
Snacks & Drinks: It's a pub. Drinks and food available. NO BYO.
Cost: $20 online pre-bookings, or $25 cash at the door
What's in Store?
On the night:
* Dance class hosted by the fabulous Serena and Ben from Swing Patrol Paddington.
* A selection of Sydney's finest swing dj's sampling toe tapping swing tunes.
* We are playing "Find a Pair" You will be given an identity on arrival you need to find your missing half!
* Fun antics and strolls.
* Imperial Hotel bar staff have created a cocktail just for Swing Patrol – ask the friendly bartenders about it on the night.
* Lots and lots of social dancing.
Imperial Hotel Paddington have also put together a selection of their finest food to tempt your taste buds, come and join us for dinner! Check out the menu
Tradition dictates that each Swing Patrol venue shows their colours. Feel free to go all out or just wear a tasteful touch:
Paddington – Red
North Sydney – Silver
Newtown – Green
Glebe – Blue
Juke Joint – Purple
Universal Dancer – Rainbow or a colour mix of schools attended
Book your spot now: …
How do I Book a Ticket?
Tickets are $20 if purchased online before 5pm on Thursday 11th of May
or $25 if purchased at the door on the night (cash only).
Book now