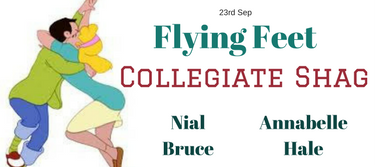 Flying Feet – Collegiate Shag workshop
Not sure what Shag is but curious to find out?
Seen Shag out on the social floor and don't know where to start?
Done a bit of Shag and looking to improve your skills and technique?
Want to dance comfortably to upbeat tempos?
If you answered yes to any of these, then come to this Collegiate Shag workshop with two of Australia's best Shag teachers.
Sample just a little of the fun of Shag, or immerse yourself in a full-day crash course.
What is Collegiate Shag?
Find out more

SCHEDULE AND CONTENT
Check in: 11.45am
Session 1: 12.00pm – 1.10pm
Shag Fundamentals
Starting from scratch, we're going to cover all the fundamentals of Collegiate Shag. We'll be going over the basic footwork in closed, side by side, and open position. Then adding some fancy turns and transitions.
Total beginners welcome, and those new to Shag.
30 min break
Session 2: 1.40pm – 2.50pm
Turns and Flow
Some more turns, and moves to build up your Shag. We're going to work on creating a nice flow between moves, that'll make your social dancing feel great.
NOTE: to attend Session 2 you must have attended Session 1 or have previous Collegiate Shag experience.
30 min break
Session 3: 3.20pm – 4.30pm
Classic Shag Moves
Some great classic Shag moves to really get you moving on the dance floor.
NOTE: to attend Session 3 you must have attended Session 1 & 2 or have previous Collegiate Shag experience.
COSTS AND REGISTERING
Option A:
Pre-book online through Trybooking:
$35 per person per session
$80 per person for the full day
$160 Pair Pass (1 Lead & 1 Follow – full day)
Registrations will close Thursday 21st September at 5pm
(Note that TryBooking is not an app and won't work properly from a phone or other device. Best to get onto a computer to register.)
Bookings now open!
Book now
Option B:
Casual attendance (cash on the day):
$40 per person per session
$90 per person for the full day
Places for casual attendees only available if workshop is not fully booked.
Online registration is the best way to secure your place.
FAQS AND OTHER INFORMATION I NEED TO KNOW
* This workshop is suitable for anybody, regardless of your level of Collegiate Shag experience, there will be something for everyone, aiming to cater for a range of abilities and experience, across progressive sessions. The sessions will progress from total beginner level in Session 1 to more challenge in subsequent sessions, ideal for those who know the basics and want more moves and skills practice.
Note that the prerequisite for Session 2 & 3 is Session 1 or some Collegiate Shag experience (including an understanding of the basic rhythm and footwork, and lead & follow principles.)
* We will be teaching lead & follow partnered Collegiate Shag dancing, so you will need to elect to dance as a Lead or a Follow. You don't need to register with a partner or bring one with you. We rotate partners throughout the sessions – a great way to meet new people, all sharing the same fun learning experience.
* If you're registering online for you and a friend, make sure you register Leads and Follows separately – please don't book 2 Follow tickets for a Follow and a Lead. Pair Passes (for 1 Follow & 1 Lead) are available for full-day attendees.
* What do I wear?
Shoes comfortable for dancing (flat shoes might be preferable if you're not accustomed to dancing in heels.)
Comfortable clothing that you can really move about in.
* What do I bring on the day?
Water, small towel, deodorant, mints, snacks, lunch, and loads of energy!
* Refund Policy:
Please select your ticket purchase carefully.
Where applicable, a refund of 50% of ticket price may be issued up to close of registration.
After close of registration, no refunds will be issued.
* Any other questions?
Any questions, email info@swingpatrol.com.au
YOUR TEACHERS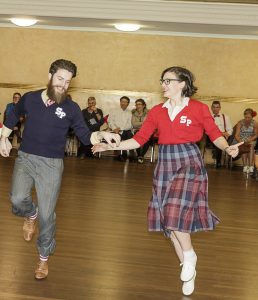 Annabelle Hale and Nial Bruce have been working on reviving Shag in Australia for a number of years. Teaching regular Collegiate Shag classes since 2014, they've also been guest instructors at All The Cats Join In (Melb) in 2016 and 2017 and at Hot Rhythm Holiday (Austin, Texas) in 2017, and have invitations to teach at upcoming events in the USA and Asia in 2017/18.
Annabelle and Nial have found great success through competing over the years. They've won and placed at competitions both at home and overseas. The latest of these being 3rd at the Camp Hollywood Shag division, 2nd at Hot Rhythm Holiday Advanced Strictly Shag, and 1st and 3rd at Hot Rhythm Holiday Open Shag Jack n Jills.
They can't wait to share their passion for this dance with you!
Watch Annabelle & Nial's Collegiate Shag performance at 2016 Australian Jitterbug Championships