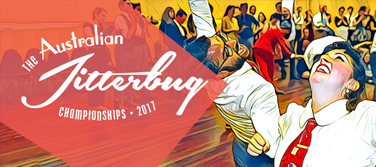 Australian Jitterbug Championships 2017 (MELBOURNE)
The Australian Jitterbug Championships returns!
AJC aims to support the development of swing dance in Australia, honour the rich history of lindy hop and other jazz dances, and celebrate the sheer fun of swinging out through competitive and social dancing.
AJC 2017 will be a big day/night affair, with competition heats in the afternoon and finals in the evening at the spectacular AJC Ball, featuring a live band and plenty of social dancing. A sensational event for competitors and spectators alike. Be inspired and inspirational; strut your stuff on the competition floor or cheer like mad and swing out to the best in live jazz music.
Full details available on the AJC 2017 website.
Afternoon Heats – 1pm @ Collingwood Town Hall in Melbourne, VIC
(12pm Doors open, 1pm Competition commences)
Where required, heats will be run in the afternoon.
AJC Ball – 7pm @ Collingwood Town Hall in Melbourne, VIC
Enjoy the entertainment of the AJC Finals, plus social dancing to the best live jazz with
Mike McQuaid's Swinging All Stars
Mike McQuaid – trumpet, reeds
Jason Downes – reeds
Rob Moffatt – trombone
Matt Boden – piano
Tamara Murphy – bass
Sandra Talty – drums, vocals
Competition Divisions:
* Marnie Oliver Up & Coming (for those dancing since January 1st 2016)
* Midstream Madness
* Strictly Lindy
* Strictly Balboa
* Strictly Shag
* Blues/Slow Swing
* Fast and Furious
* Showcase (one couple only)
* Teams (multiple couples or groups)
* Solo Charleston (this year finals will be held at the AJC Ball)
* Jack 'n' Jill – entrants self-select to enter ONLY ONE of the following divisions:
– Advanced Jack and Jill (for anyone who dances swing at an advanced level)
– AJC Jack and Jill (for any and all swing dancers)
** Triple Threat Award – acknowledging excellence across multiple swing dances.**
Go to the Official AJC 2017 Website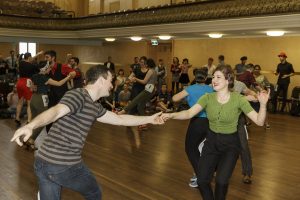 (photo credit: Cuskelly Photography – AJC 2016)