Blues dancing every month
by swingadmin on 29th May 2017
Swing Patrol's Juke Joint has got the Blues, with fun classes and fabulous social dancing.
When: 1st Thursday of every month.
Where: Different Drummer Bar – 2nd floor, 185 Glebe Point Road, Glebe, NSW 2037
What to expect?
Blues night is a laid back gig where people come to learn, dance, enjoy great music and socialize. Your first lesson will give you the skills to get onto the social dancing floor and have an amazing night straight away! The music you'll hear is mostly blues & roots with a bit of early R&B, soul and slow swing thrown in to keep it interesting.
7.30 – 8.30pm: Level 1 Absolute Beginner Class
Never danced before? This class is perfect for you!
Never danced Blues before? We'll get your started!
This 1 hour class is fun, upbeat and we always teach the basics in the first 15 mins so that everyone is on the same page.
We teach Blues dancing primarily as a partnered social swing dance. No partner? No worries. We change partners frequently throughout the lesson, so everyone gets the chance to dance with different people, for a taste of lead & follow social swing dancing.
8.30 – 11.00pm: Party!
Social dancing, catching up with old friends, making new ones all while enjoying the music of Sydney's most experienced blues dance DJs.
Juke Joint is run by Justine Kinkade who brings over 10 years of experience in teaching, DJing and running events, and we then add talented guest teachers and DJs to create this monthly 'house party'.
Grab a cocktail, check out the food menu, relax and enjoy the the atmosphere, the dancing and the Blues.
Costs:
$16 for the class
$8 for social dancing only (free if you join the class)
Join the Swing Patrol Juke Joint Blues Facebook page.
Take a look at Juke Joint regulars performing a Solo Blues routine at the Swing Patrol Winter Performance Ball 2016.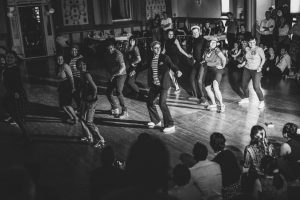 (photo credit: Nick McKinlay)